Fall is opening its doors to the winter and it's time to get your new cozy mug for those cold nights and hot chocolates! 🙂
Now presenting a new cozy mug cover with detailed leaves and a cute little button that will make sure it fits on most mugs!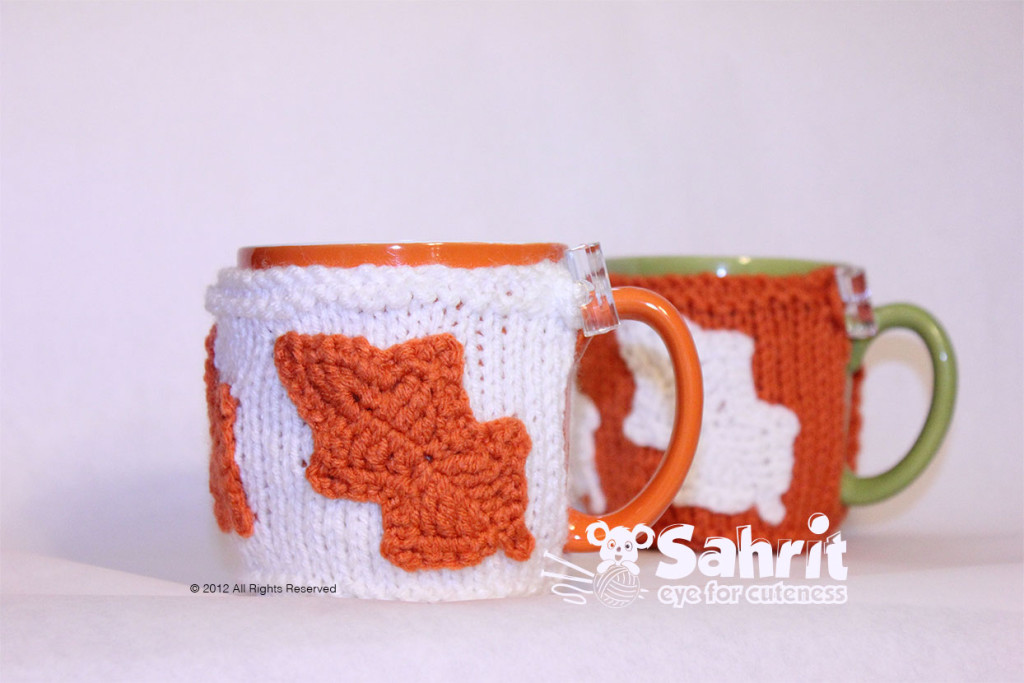 Mug Cover fits mug 3 1/2" diameter on top, 2" diameter on bottom, 4 1/2" high.
Skill level: Intermediate – Advance Beginner.
What will you need:
Knitting Needles: 6mm/ US 10
Crochet Hook: 3.25mm/D
Yarn Needle
Button 1″ long.
Yarn: RED HEART® With Love®: You can mix and match.
1001 White Color A
1252 Mango Color B
Gauge for Cover:
16 sts = 4″; 24 rows = 4″ In Stockinette st.
Crochet Abbreviations:
| | |
| --- | --- |
| ch | chain |
| sc | single Crochet |
| st/s | stitch/es |
| sl st | slip stitch |
| hdc | half double crochet |
| dc | double crochet |
| tr | treble crochet |
| rep | repeat |
| * to ** | rep instructions from * to ** |
Instructions
Cover (Worked from bottom to top)
With A, Cast on 42 sts on Knitting Needles.
Row 1 – Row 2: Knit.
Work piece in stockinette st until piece measures 3 1/2″ long from cast on row.
Next 2 rows: Knit.
Bind off. With crochet hook in the loop left, ch 25, Sl st 2 rows below. Fasten off. Hide ends.
Leaf (Make 3)
Foundation row: With B and Crochet Hook, ch 24 plus one starting ch.
Row 1: 1 Sl st in 2nd, 3rd and 4th ch from hook, 1 hdc in each of next 2 ch, *1 dc in next ch, 1 tr in each of next 2 ch, ch 2, 1 sc in next ch**, ch 2, rep from * to **, (1 sc, 1 hdc, 1 dc, 1 tr, ch 2, 1 hdc, 1 sc) in last ch, continue working on other side of foundation row, 1 sc in next ch, ch 2, 1 tr in each of next 2 ch, 1 dc in next ch, 1 sc in next ch, ch 2, 1 tr in each of next 2 ch, 1 dc in next ch, 1 hdc in next ch, Sl st in next ch, ch 1, turn.
Row 2: sc around edges of leaf, ch 3 at the top of each pointy part of the leaf (five points in total). End this row by joining a Sl st to hdc. Fasten off. Weave in ends.
With Yarn needle sew the three leaves to the cover as pictured.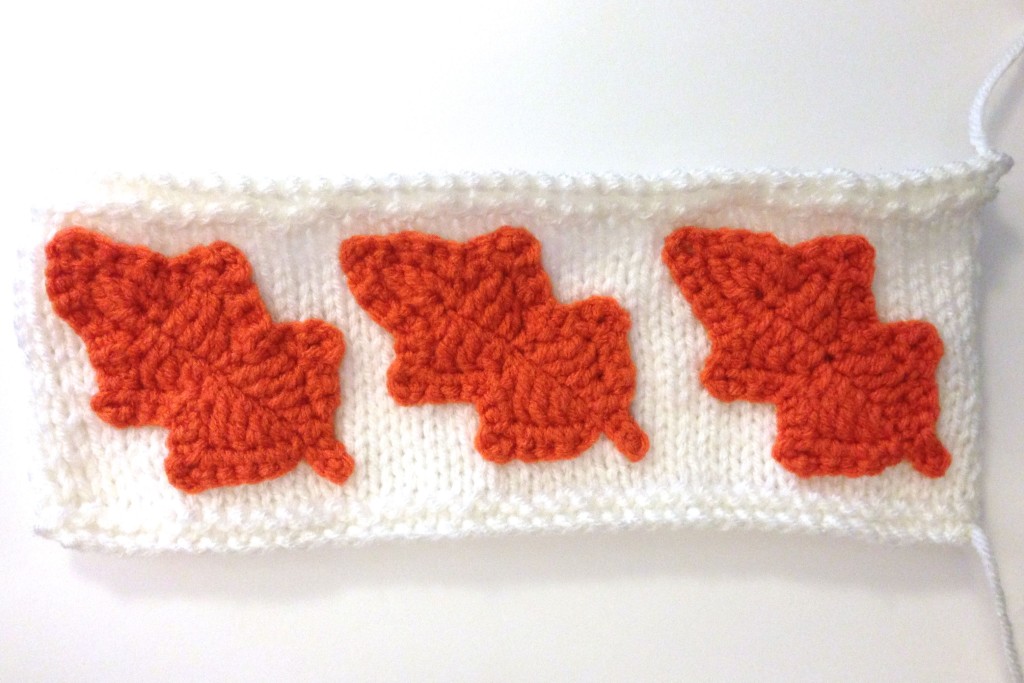 Fold Right Side of piece together and hold the bottom together.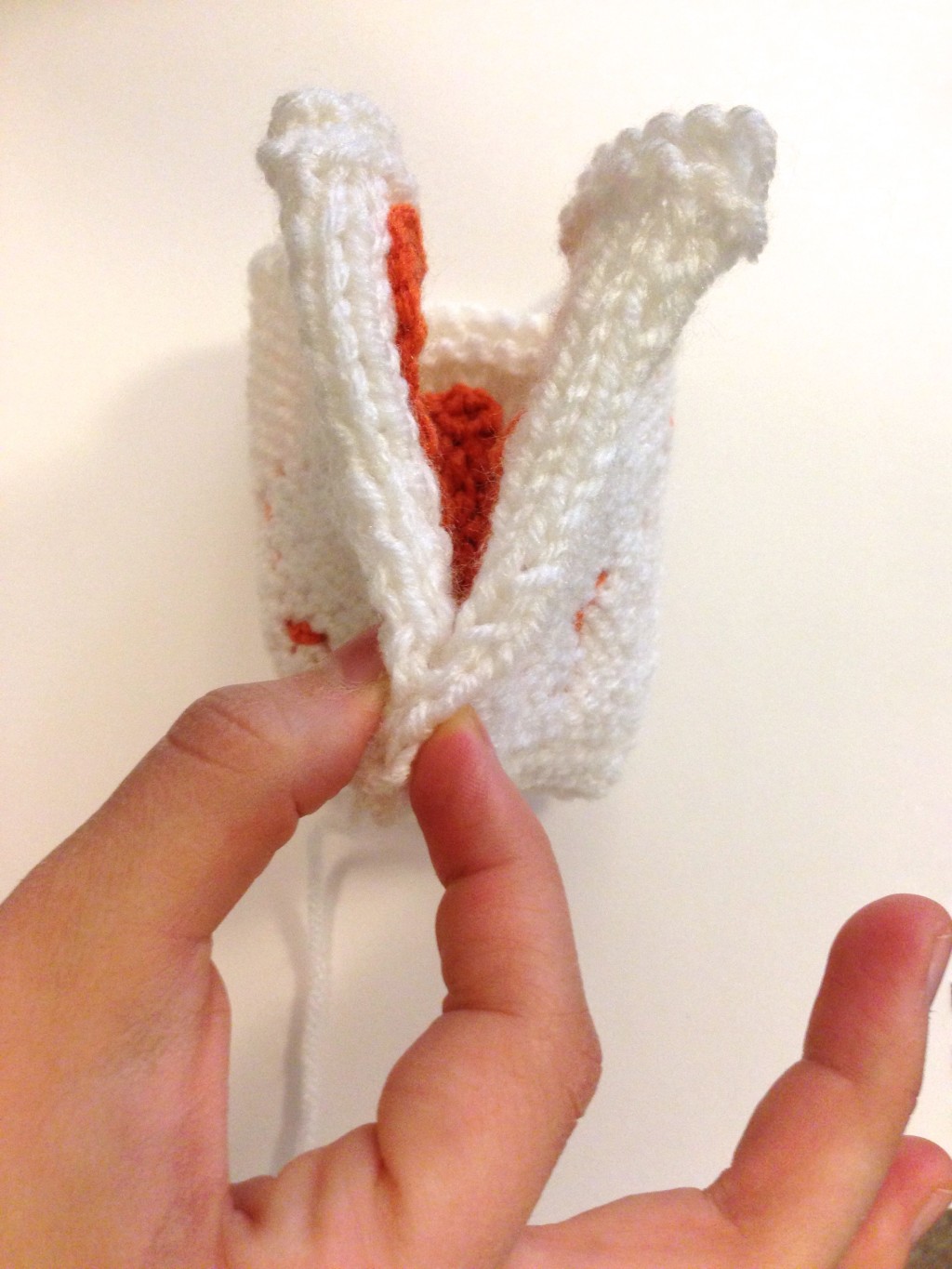 With Crochet Hook, sc the bottom together up to 4 sts (You can also sew the bottom instead of working sc).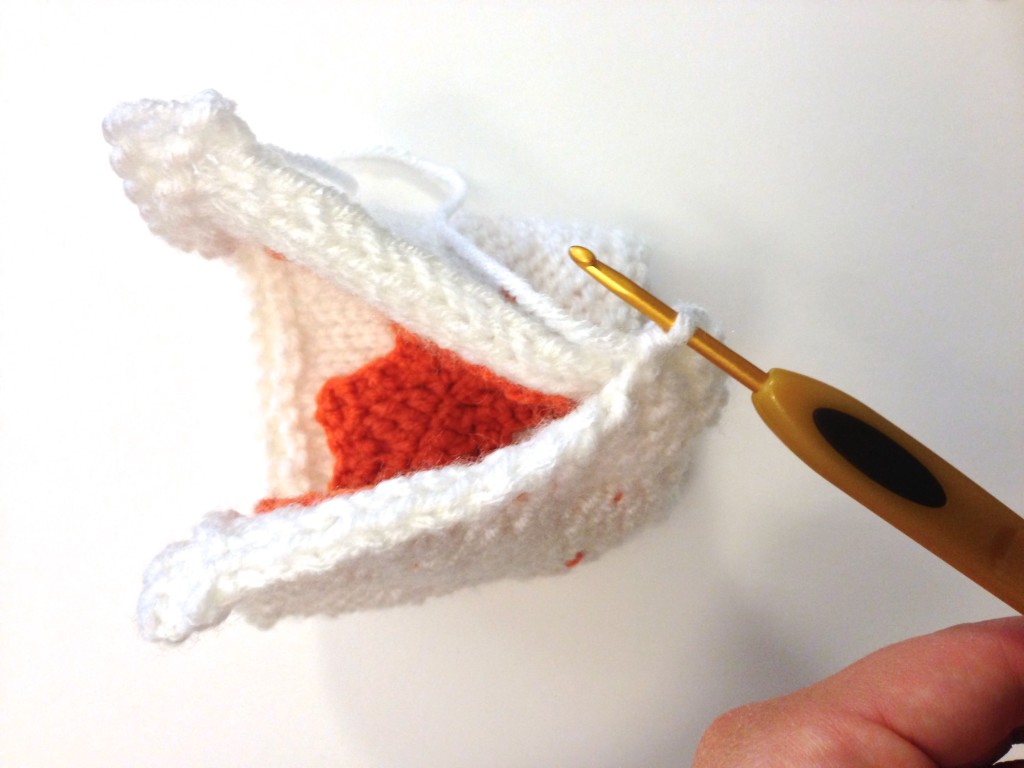 Flip the cover to it's Right Side and sew the button to the top left, a row before last. Place on your mug, and you are ready for some hot chocolate! 😀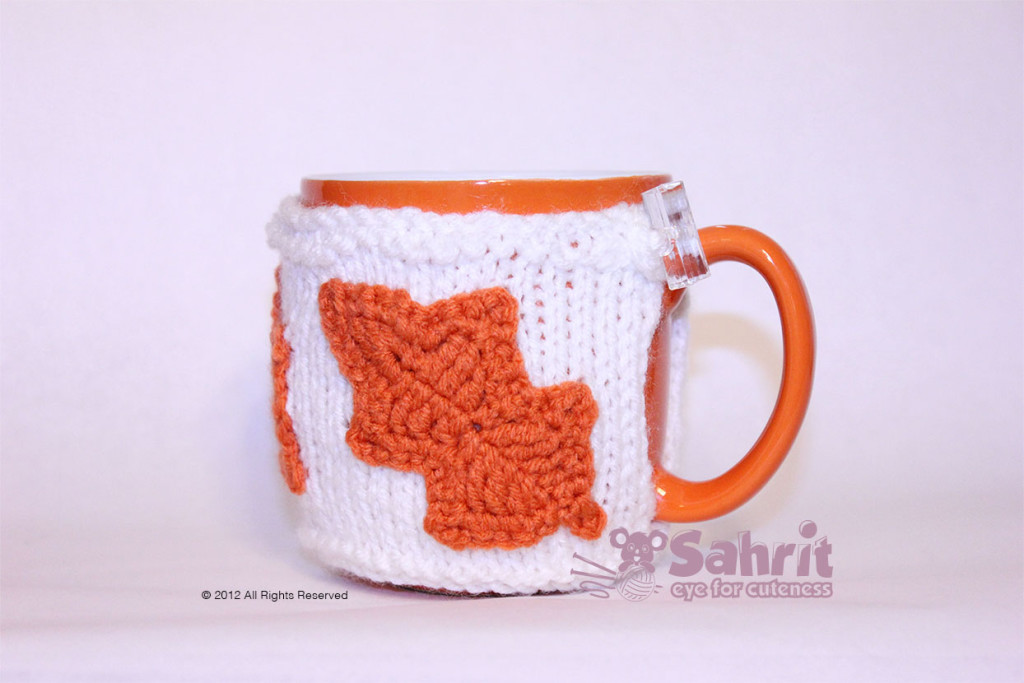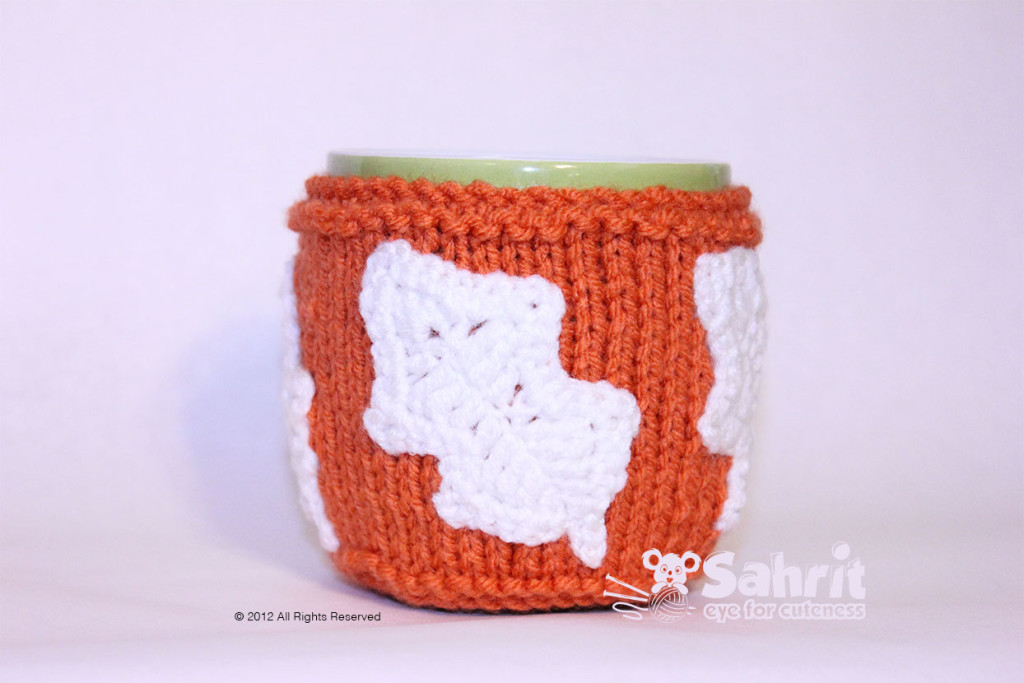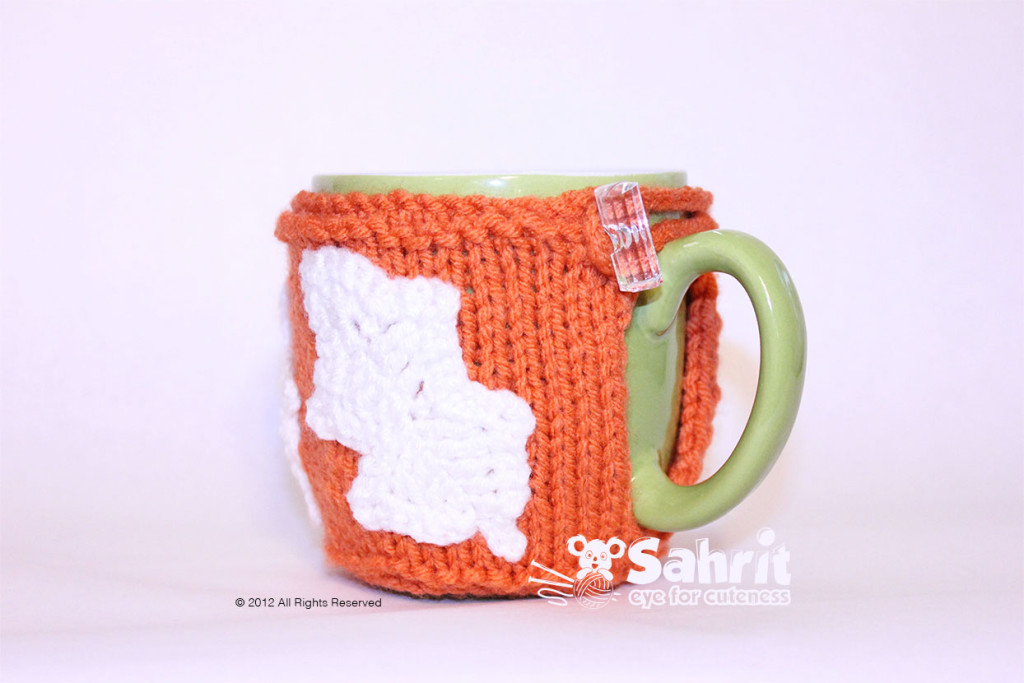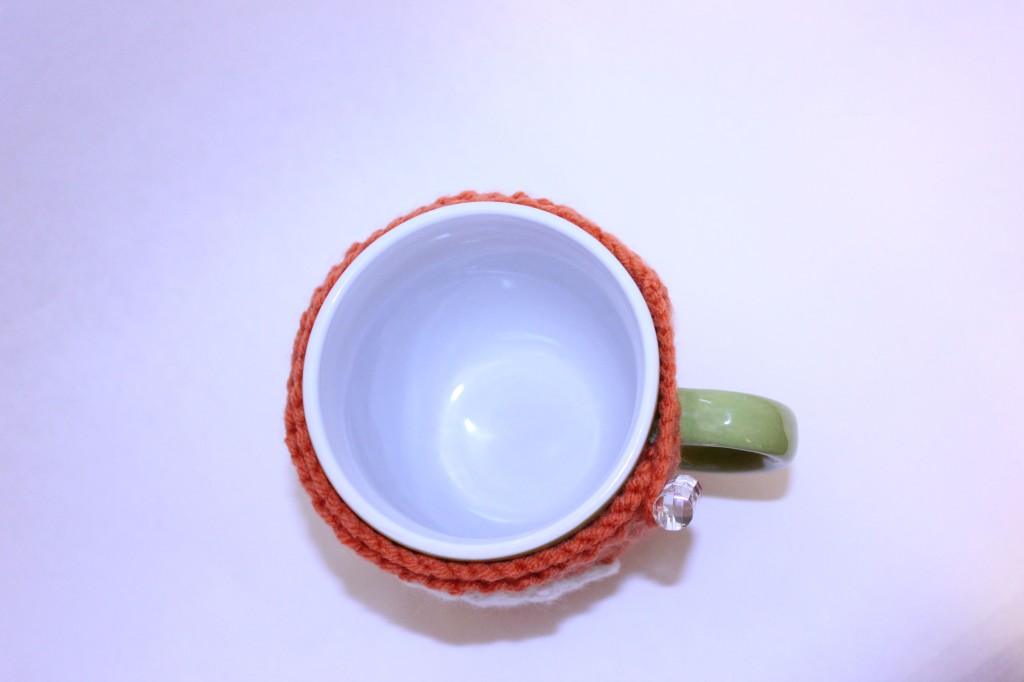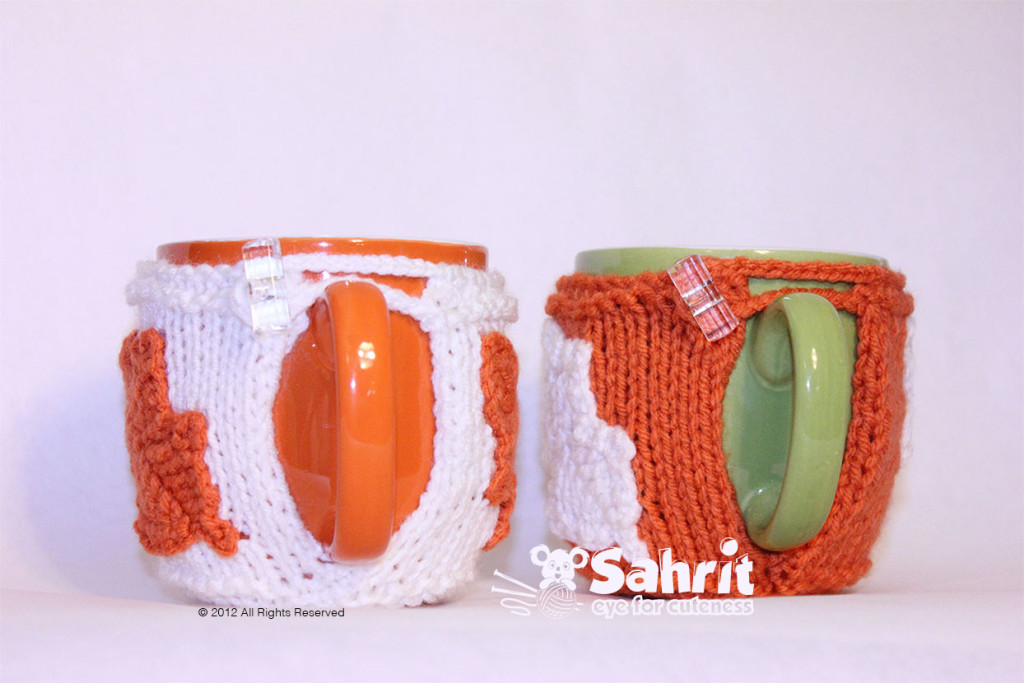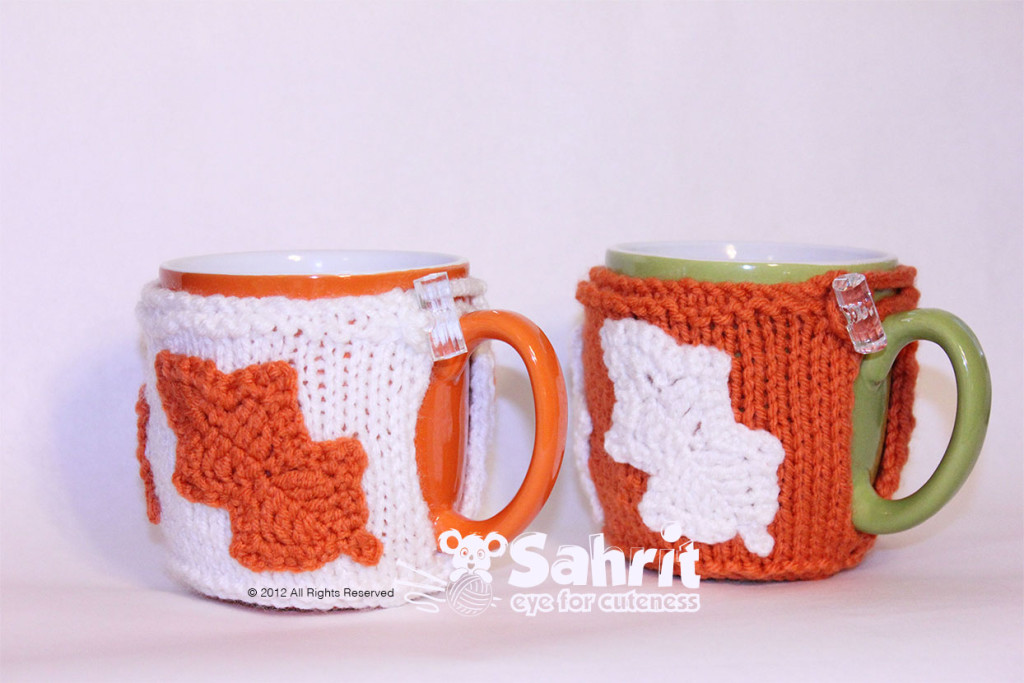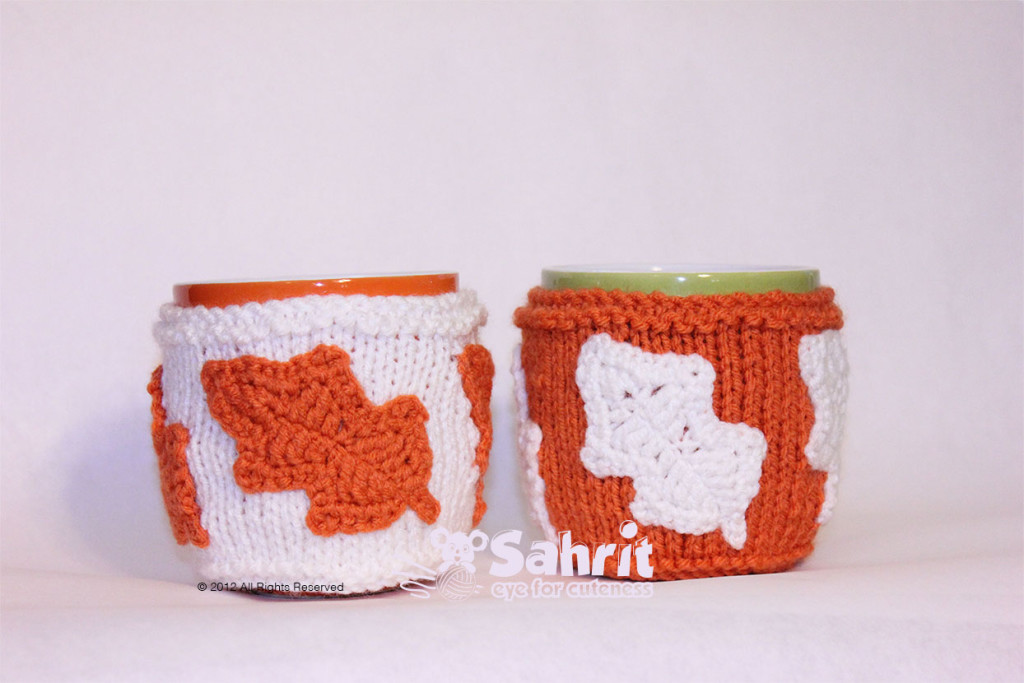 Hope you enjoyed the pattern! Feel free to contact me for any questions, leave comments and share! 🙂
© Sahrit Freud – Weinstein 2012. All rights reserved.
*You may NOT use this pattern, or the items produced following the pattern for commercial/retail purposes.