Fall in love and be loved… till the last petal falls… then break the spell. This last week I finally created and released the Beast pattern after being asked to do so for over 2 years… sorry had a really long list hehe But now that I have the Beast, what's a beast without the enchanted Rose?? If you would like to make your own Beast you can find his pattern in my Etsy shop here. Since the Beast pattern is really long and I was in such a great mood after finishing him I decided I'd like to give you the Rose pattern for free! I wanted to give the Rose an illusion that it's floating through air. What do you think?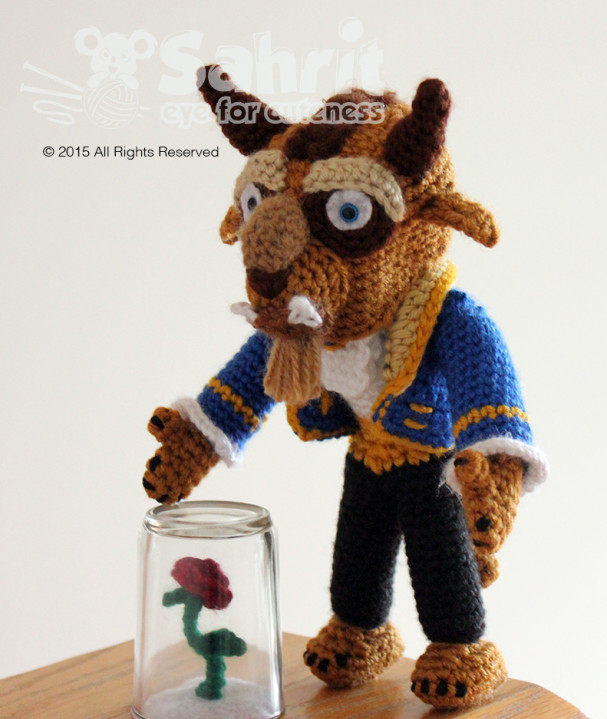 Skill level: Fun and Easy
Measurements: Rose with Stem is about 2.5″ tall.
What will you need:
Hook: 3.25mm/D
1 Dark Green Pipe Cleaner
Scissors
Pen or Sharpie (or Pencil)
Small amount of any color Felt (I got White) – 2.5″ X 2.5″
1 Glass candle Holder – I got mine from Hobby Lobby – up to 3″ high.
Yarn: Red Heart Soft, Medium 100% ACRYLIC 5oz/141g – approx. 290yds/266m
Wine – Color A
True Green – Color B
Abbreviations:
| | |
| --- | --- |
| ch | chain |
| sc | single Crochet |
| st | stitch |
| sl st | slip stitch |
| hdc | half double crochet |
Rose
Foundation Round: With color A, Ch 5, join a Sl st to first ch, being careful not to twist.
Rnd 1: ch 2, 3 hdc in first ch, 3 hdc in each of next 4 ch, Sl st to first hdc. (15 hdc) Fasten off; Secure and hide ends. Shape with your fingers to make the Rose curled up.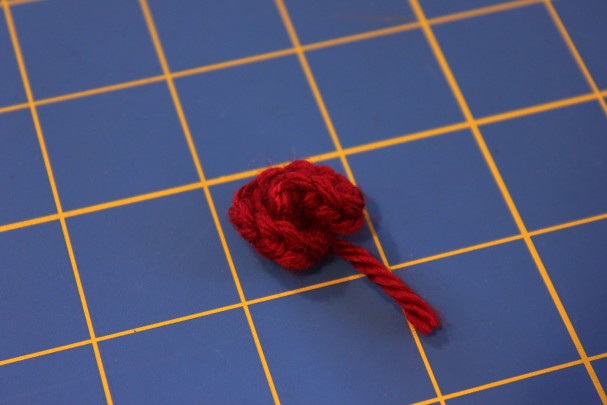 Stem
Color B. Leaving a long tail of yarn first, ch 20, Sl st in 2nd ch from hook, 1 sc in next ch 1 hdc in next ch, Sl st in next ch, ch 15. Do not Fasten off yet. Sl st into a st from the bottom of the Rose, ch 3, Sl st in 2nd ch from hook, Sl st in next ch. Fasten off; weave in ends.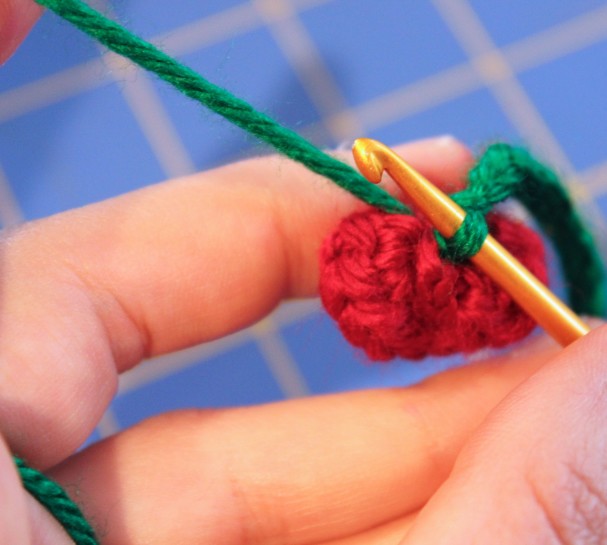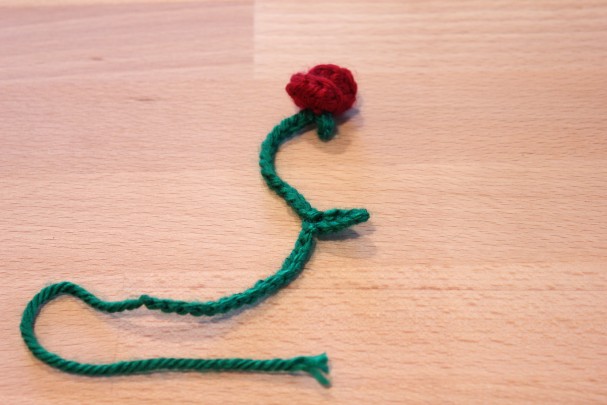 Pipe Cleaner
Take  the Pipe Cleaner and fold it in half. Cut it. We will only use one half. Wrap the Pipe around three fingers and twist the end to create a circle base.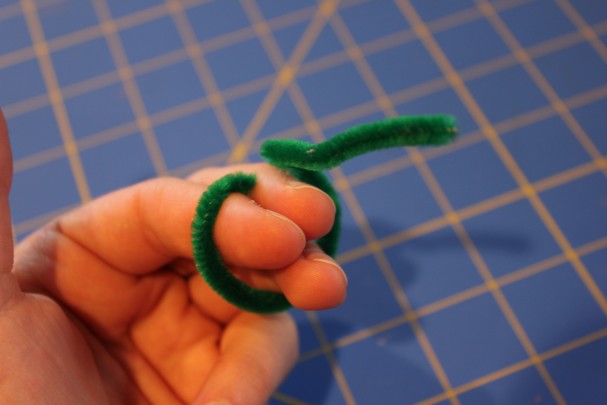 Felt
Take the Glass Holder and turn it over the Felt, with the pen/sharpie trace a circle around it.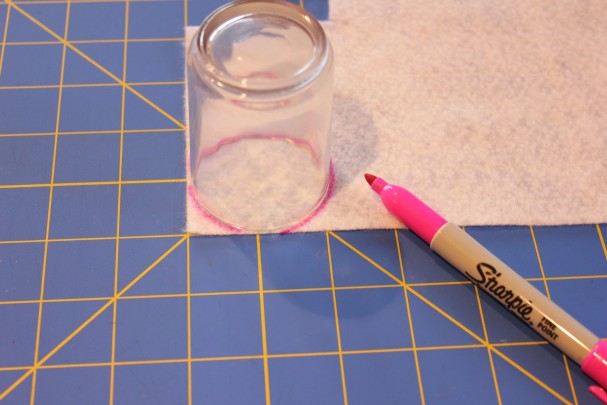 Cut the circle out of the Felt, fold the Felt in half and with scissors trim a small piece in the center.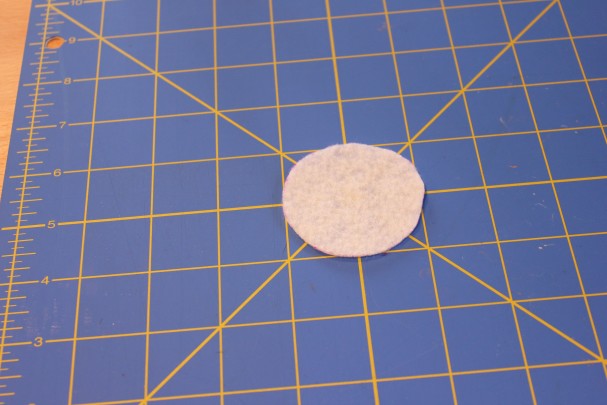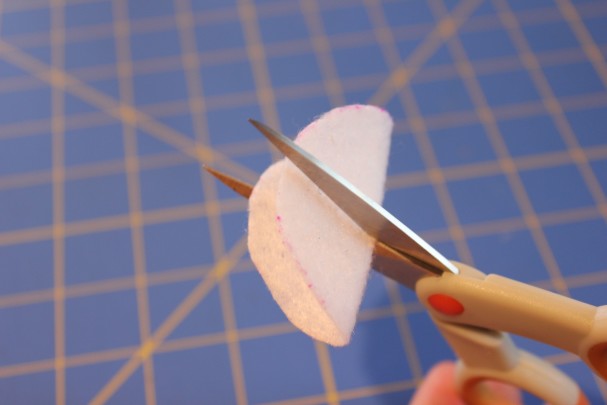 Place the straight part of the Pipe through the Felt's center hole.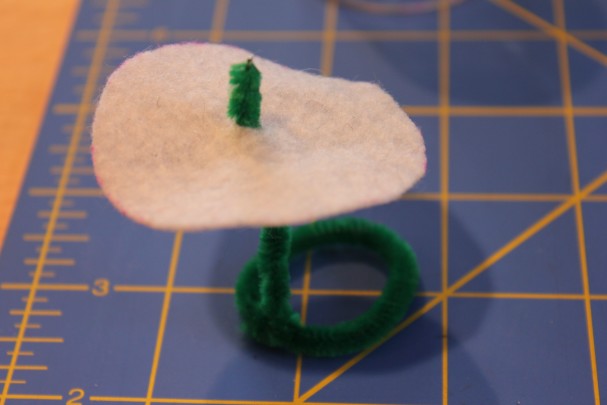 Insert the hook through the Felt's center coming from the side where the Base of the Pipe is.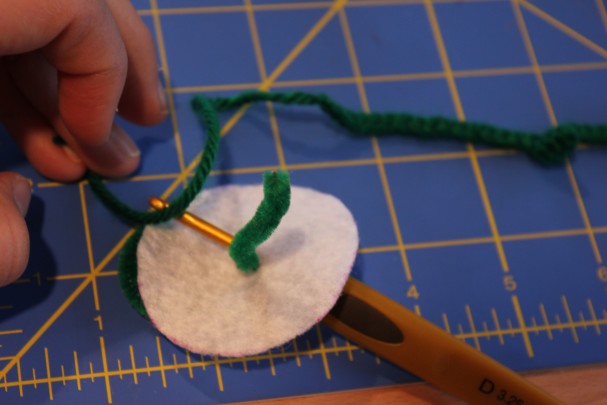 Pull the tail from the Stem through the center of Felt circle.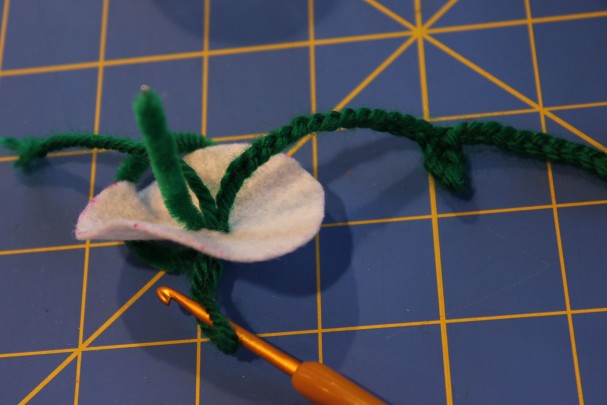 Tie Tail of Stem in a good knot around Pipe Base.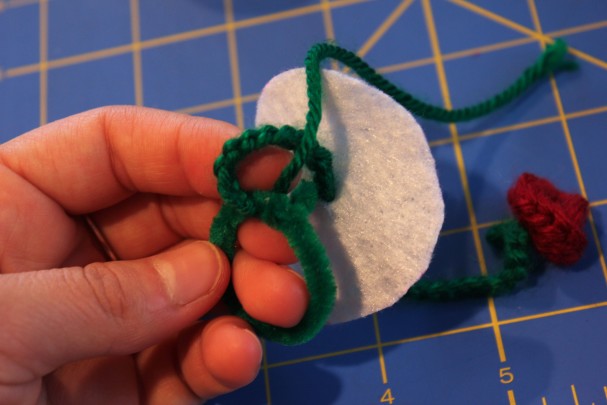 Start wrapping the Stem around the Pipe until you reach the Rose.
Poke the end of the Pipe through Rose's Center and with the scissors fold the end to secure.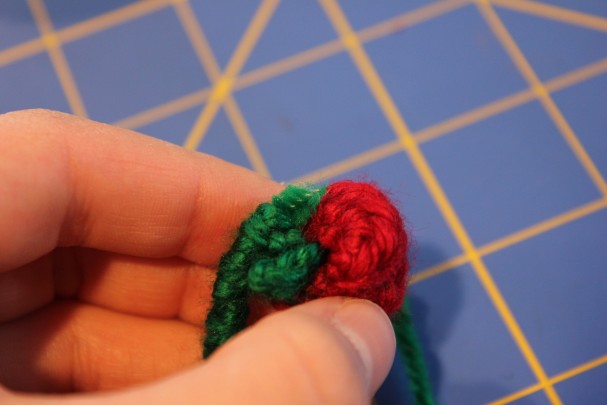 Now you have a beautiful Rose that looks like it's floating in air, Take the Glass and cover and protect the enchanted Rose! 🙂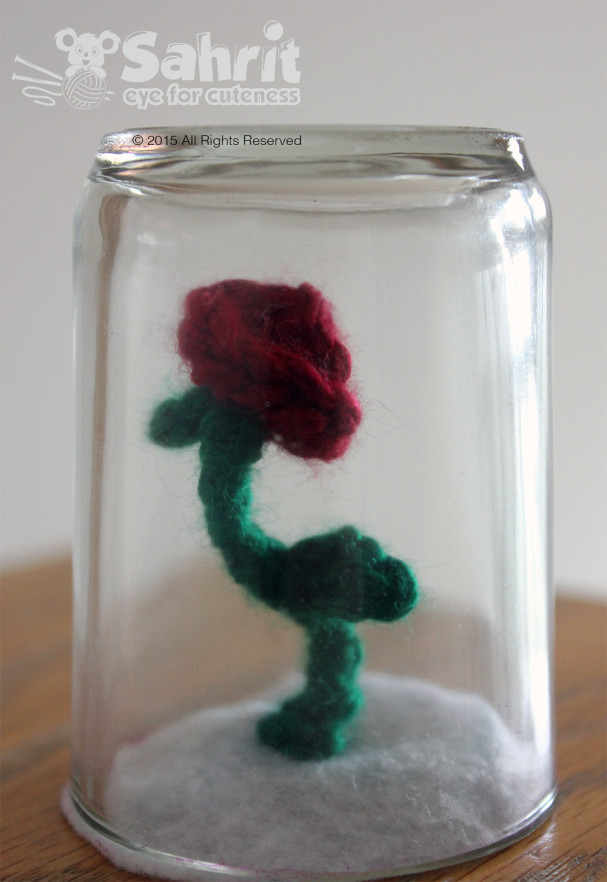 Hope you enjoyed making this! Feel free to contact me for any questions, leave comments and please share with someone you think will enjoy this!
Post your finished results on my facebook page: https://www.facebook.com/EyeForCuteness
Follow on Instagram: eyeforcuteness
© Sahrit Freud – Weinstein 2015. All rights reserved.
*Please don't use this pattern, or the items produced following the pattern for commercial/retail purposes.