My boy can't get enough of anything on wheels right now and especially trains! We decided to go small for his birthday this year and just have a little party with family since he won't remember any of this anyways and last year we had a big party with friends and family 🙂
I really had to fight the crafter in me that wanted to have a theme party. So I decided to let the time be the judge and to try and work stress free till that. So up to about an hour before family came over I set up everything. There was lots of hurrying and stress within that hour but it was sooooo worth it. Thanks to pinterest ideas I knew what i was aiming for and only gave it one shot to work and if not it wouldn't be since the goal was small and stress free haha
I bought a whole bunch of fruit the day before and hubby and I rushed in the hour to create this Fruit Train after looking up "Fruit Train" on Pinterest. Mind this was our first time trying to create shapes from fruit. I also added veggie trays to my food train in the back of the fruit as I found in the same website mentioned before.
I also knew I had some fabrics I haven't used in forever that were the right colors for a train and very quickly cut out squares and little windows in them and with no other than tape hanged them on the edge of the table for extra decoration.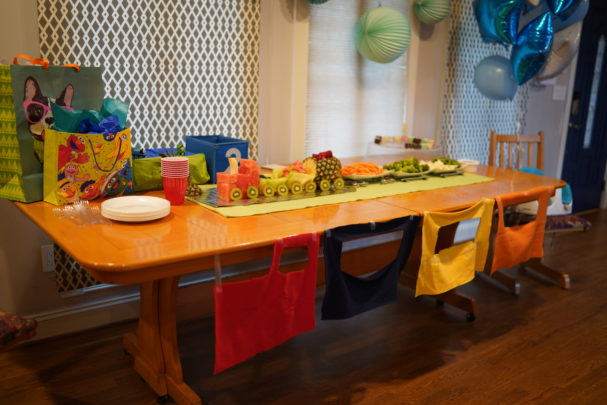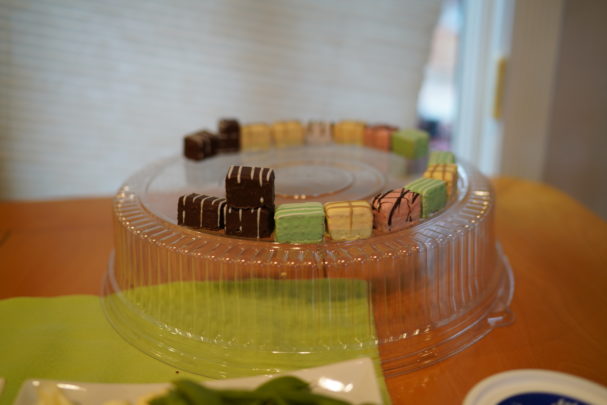 I am super happy with how it turned out since – A. it didn't fall apart and B. it looked like a train! haha It was the center piece in our party and got lots of WOW's from our 8 guests haha The crafter in me was happy 🙂
As for his gift I was better prepared and a few weeks ago started creating his new toy the Green Choo Choo Train. Grab the pattern here on Etsy or here on Craftsy.
It was exciting to see him open his handmade gift, recognize and play with it 🙂 Mama's heart is full!
What do you think? What did you do when you wanted to have a small party but still decorated?