This week marks 4 months that I've been selling on Etsy, from when I posted my first amigurumi creation on January 24 – Ariel.
Ever since, I've created almost 40 original patterns, had more than 550 sales to date on Etsy and Craftsy, attended Stitches South and was commissioned to create more than 5 designs for Coats & Clark.
Let me say it has been a whirlwind! I wanted to share with you my story and how I started all this.
Before I was a crochet designer (I guess that's my title now!) I was actually a dance teacher. I taught a variety of dances and had a lot of fun doing it. Unfortunately, about 7 months ago I injured my back and had to stop all dancing activities until I heal. If you've ever been an athlete, or someone that is actively doing sports on a daily basis you know how hard it is to stop but also how necessary it is to let your body recover.
So moving from literally 6-7 days a week of physical work to basically doing nothing got me a bit depressed.
After watching a lot of documentaries and TV Shows on Netflix for 2 whole weeks and reading a lot of books 🙂 I decided that I want to start knitting again and try and make a dress.
I first learned knitting when I was 11, and ever since I've toyed with it over the years, creating scarves, headbands, shawls and even a laptop briefcase for my boyfriend – now husband 😉 I even attended some of my school's open fair days where I sold a bunch of nick nacks for some pocket money. It never grew to anything more than that because I was focused on my dancing and other stuff so it was a great and fun hobby.
Back to the dress – I made the decision to go and get some yarn and start working on the dress. About a week later the dress was finished and I decided that I want MORE! It was so much fun knitting again and it really took my mind off the fact I can't do anything physical.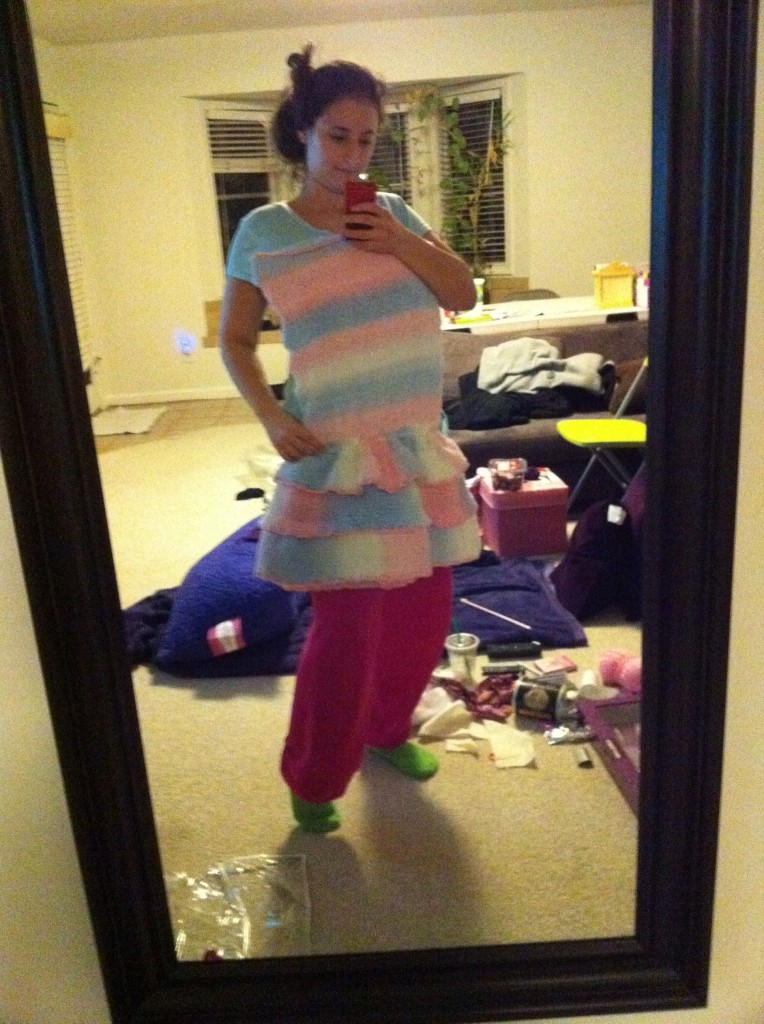 A couple of months later and a few more pieces of clothes I knitted, my husband and I went to Michael's to get some crafts stuff to see if there's anything interesting. A few books about crochet and knitting patterns caught our eye and we decided to pick them up and see what kind of new projects I can create. One of those books was how to create Amigurumi Dogs which are super adorable.
The same week my sister came to visit us (she lives in Israel) and we decided to choose a project from the Ami book to create as a gift for my mom – she's an assistant veterinarian and adores dogs. About 10 hours later while trying to remember how to read charts and crochet instructions I created my first Amigurumi dog.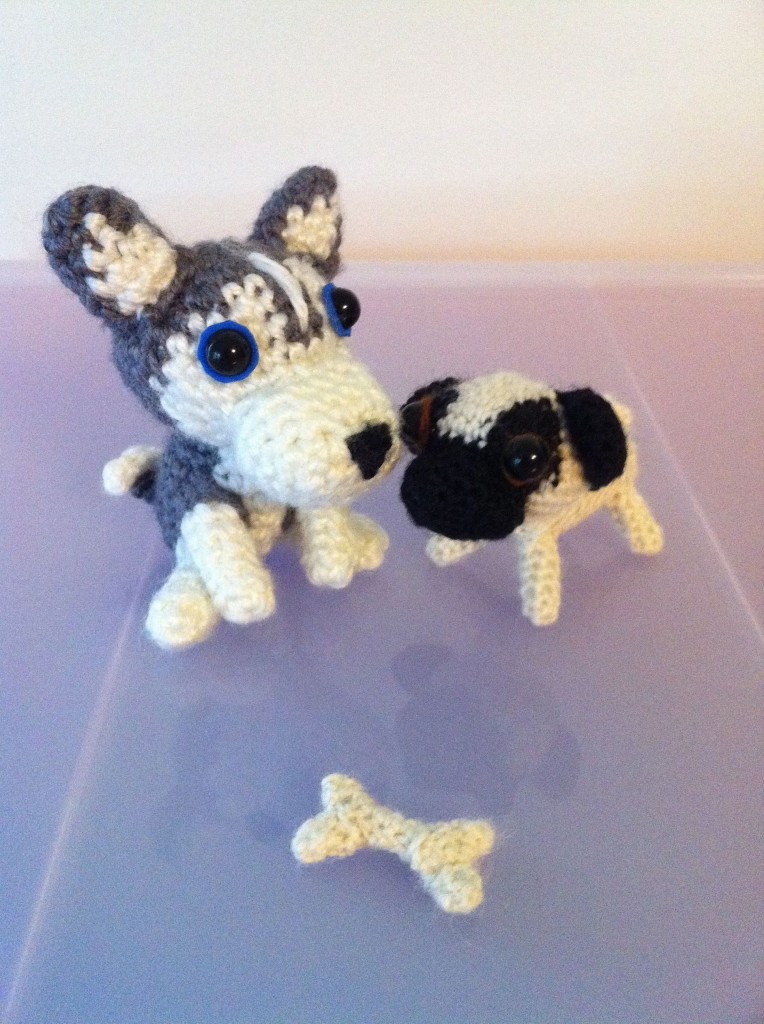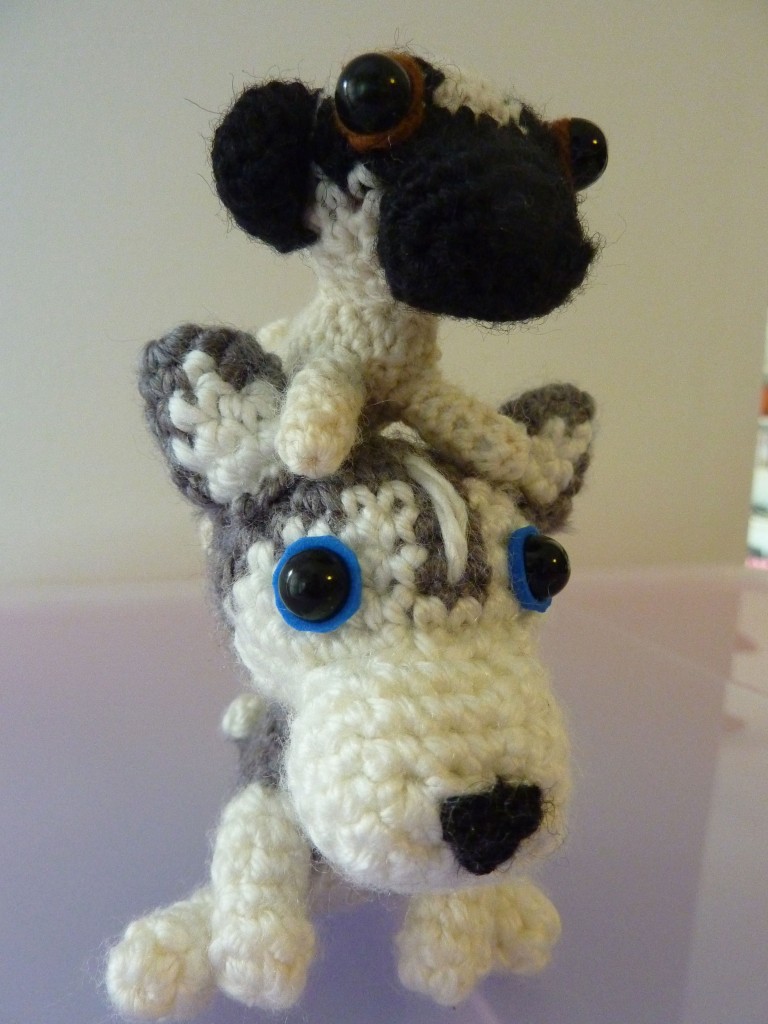 After that I created another dog – now in 5 hours! – and thought to myself how cool would it be to create Ariel The Little Mermaid as a small doll – she is my all time favorite Disney princess!
Next day – Voilà! Ariel was born.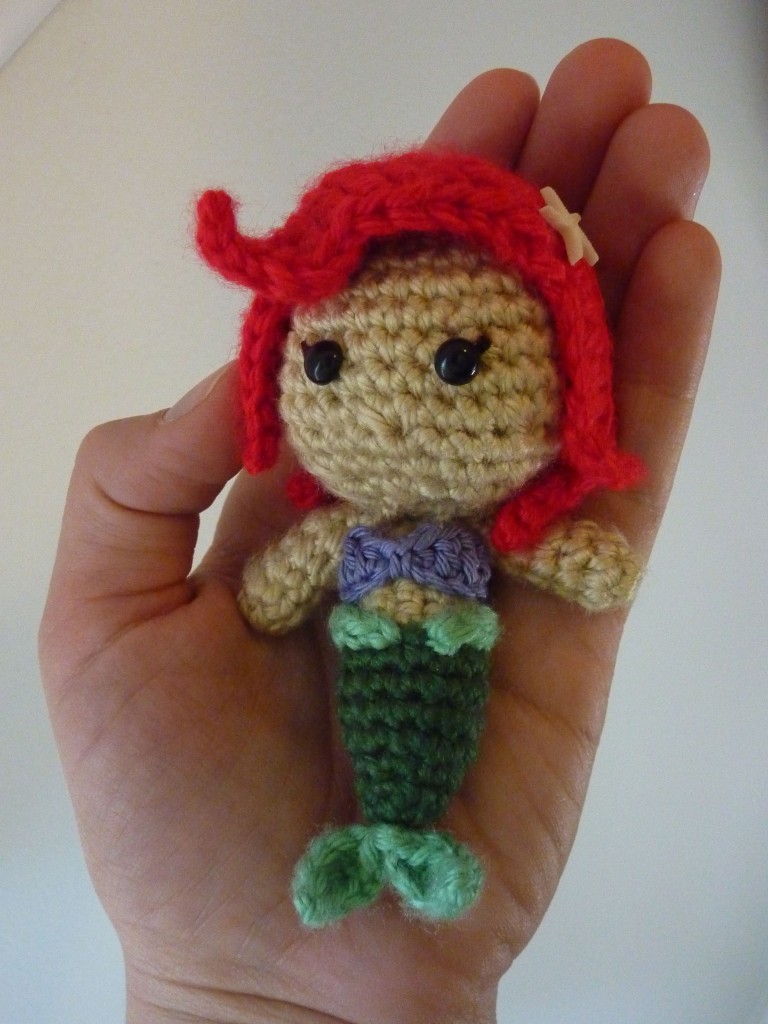 I was so excited to finish the doll and got great feedback from my friends and family, I remembered that a friend of mine in Atlanta told me she put some stuff for sale on Etsy – check out her store I'm This Many T's – and I remembered I had a user as well so I figured it's worth a shot putting the doll up for sale. I had no expectations AT ALL to what was going to happen next.
One day later after I opened my shop – I got my first sale! Someone actually bought the first doll I ever made and I was ECSTATIC! At that point, after freaking out from the fact I need to create a new doll and ship it as fast as I could, I had to figure out how I'm going to recreate the doll from all my scrappy notes :S After I finished and shipped my first Ariel, I decided that I'm going to make all of the Disney princesses as Amigurumi dolls.
After selling my first Ariel, I got a few more orders in the next couple of weeks and then I realized I should be making the patterns for these and not just the dolls. A month since I first created Ariel I posted my first pattern for Ariel, and a few days later I got my first pattern sale and from that moment, I was HOOKED.
After Ariel, I decided to create Belle from Beauty and the Beast, then came Rapunzel from Tangled and with each doll I got more infatuated with the work and very quickly, a new career was born.
So that's my short story on how lemons turned into a wonderful lemonade, which I hope will grow to a long and wonderful career with the help of you – my supporting readers and customers.
As for the dancing, I really hope to get back to it and continue from where I left and possibly have a chance to make a living from my (now) two passions. From where I'm standing, the future looks bright.
I'll end with one of my favorite quotes from Kung Fu Panda – "yesterday is history, tomorrow is a mystery but today is a gift. That is why it is called Present."
Please send and share to anyone you think could be inspired to pursue their passion.
LOVE XO
Sahrit 🙂
P.S
I know I gave you a teaser with the remark on Coats & Clark – stay tuned and visit my blog for updates on that and more 😉